Most of questions from residents of the Zlatibor District, which President Aleksandar Vucic is visiting today, had to do with roads, electricity and gas supply.
The president said that construction of a gas pipeline for Prijepolje, Priboj, Sjenica and Nova Varos would begin by the end of the year.
"This year we are starting and investing 30 million euros, you will get the gas pipeline. I think that is important news," Vucic told citizens in Prijepolje who welcomed him in that town.
He then looked around for the director of Srbijagas,Dusan Bajatovic, in order to confirm those announcements.
"Get me Bajatovic, make it quick," said Vucic.
The director of Srbijagas then ran over and informed the president that the gas pipeline from Zlatibor to Priboj would cost around 10 million euros, then another 12 million for it to be extended to Bistrica, another five million to Prijepolje, as much to Nova Varos and about 12 million to Sjenica.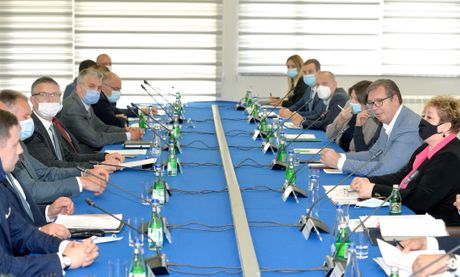 That is a total of about 45 million euros to build a steel gas pipeline, with another 30 for a secondary pipeline.
"That is in the spatial plan of Serbia and design works can start soon as well as construction," said Bajatovic.
The president then called Minister of Finance Sinisa Mali on the phone, who confirmed that there is room in the budget for investing 30 million euros in the gas pipeline for those four municipalities by the end of the year.
Vucic stressed that the gas pipeline is strategically important because of investors, but also the population, in order to have clean air, not to heat buildings with solid fuels, but also to make heating costs lower.
"It's important for the arrival of factories, which won't come without it. And we cannot do it for Prijepolje, but not for Priboj, Sjenica, Nova Varos," said Vucic.
(Telegraf Biznis)
Telegraf.rs zadržava sva prava nad sadržajem. Za preuzimanje sadržaja pogledajte uputstva na stranici Uslovi korišćenja.